Bookings Open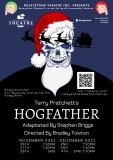 Terry Pratchett's HOGFATHER
November 26th, 27th, December 2nd, 3rd, 4th
at
7:30pm
with matinee on November 28th
at
5:00pm
Roleystone Theatre Inc. presents Terry Pratchett's HOGFATHER.
November 26 7:30pm, November 27 7:30pm, November 28 5pm, December 2 7:30pm, December 3 7:30pm, December 4 2pm, December 4 7:30pm
BUY TICKETS - https://www.trybooking.com/BUTQA
The story: Superstition makes things work in the Discworld and undermining it can have serious consequences... Hogfather begins the night before Hogswatch, the last night of the year. Time is turning and it's much too quiet. Worse ... Death is creeping down chimneys and trying to say "Ho Ho Ho". If Susan - gothic governess and Death's granddaughter (sort of) - doesn't sort everything out by morning, there won't be a morning! Ever again!
A wittily faithful adaptation of Pratchett's bestselling Discworld novel directed by Brad Towton.
Ticket link - https://www.trybooking.com/BUTQA