Coming Soon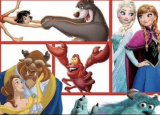 Annual Gala Concert - songs from animation
September 14th
at
7:00pm
It's back...

The Roleystone Theatre Gala Concert is returning for 2019

Saturday 14th September
This year's theme: Songs from Animated Films
This will create an enchanting mix of songs written for an animated film, or pre-existing songs that have been featured in an animated film.

Details about bookings, prices, etc will be up soon.

We are currently calling for interested performers.
If you are interested in performing, please email pauljtreasure@gmail.com

The Concert is on Saturday 14th September 2019 at our temporary home, the Roleystone Hall (corner Wygonda Rd and Jarrah Rd, Roleystone)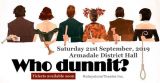 Fundraiser - 1920's murder-mystery evening
September 21st
at
7:00pm
In collaboration with Councillor Colin Campbell, the Roleystone Theatre Group invites our supporters to a 1920's set murder-mystery fundraiser to be held on Saturday 21st September, 2019.
It's going to be a night of murder and intrigue... plus yummy food, a cash bar (for wine, beer and spirits), raffles, prizes for best dressed, and don't forget the hobnobbing with local 'perthonalities'.
To be held at the newly renovated and beautifully atmospheric Armadale District Hall (Jull Street, Armadale) it's sure to be a fun and entertaining night out, all while helping the not-for-profit, volunteer-run Roleystone Theatre Inc.
Guests will be invited to dress up (to suit the theme - mid 1920's) and come along to have a go at figuring out 'who dunnit'.
Ticket prices and further details will be announced in the near future. Bookings will then be open. For now - please SAVE THE DATE
Background: In 2018 the Roleystone Theatre Inc.'s home of 85 years was closed due to structural concerns and is going to need extensive work to bring it back to active use. The Roleystone Theatre Group is currently utilising the Roleystone Hall as our temporary home. As you can imagine, starting again from scratch in a town hall requires resources, and we are also working on building our contribution to the re-building and fit-out of the future Roleystone Theatre building.