Coming Soon
A Cabaret of Golden Age Musicals
May 5th, 6th, 7th
at
7:00pm
with matinee on May 7th
at
2:00pm
Roleystone Theatre Inc. presents

A Cabaret of Golden Age Musicals
Created and directed by Chloe Palliser
What it is:
A musical-like Cabaret performance reflecting the people and shows that influenced the 'Golden Age' era of musical theatre.
Why you should come:
There will be plenty of singing, dancing, laughing and covid-safe audience interaction as our performers explore who our biggest influences have been in Musical Theatre... paying special attention to the era of the 'Golden Age'.
When it is playing:
Thursday 5th May @ 7:00pm
Friday 6th May @ 7:00pm
Saturday 7th May @ 2:00pm and 7:00pm
Where it will be performed:
At the beautiful art deco building that is the Armadale District Hall (corner of Jull St and Church Ave, Armadale).
Seating is cabaret style (tables) and BYO food and drinks are welcome.
Bookings open through trybooking https://www.trybooking.com/BYKPJ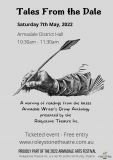 Tales from the Dale - live readings
May 7th
at
10:30am
Tales from the Dale - a collaboration
Come and join us for something a bit different this May.
Performers from the Roleystone Theatre Inc. will be doing a live performance of a selection from the anthology 'Tales from the Dale'; a series of short pieces written by members of the Armadale Writer's Group.
These pieces are designed to move you to tears, make you laugh, or make you ponder the world we live in.
The event is part of the Armadale Arts Festival program and will be on Saturday 7th May 10:30am - 11:30am at the beautiful Armadale District Hall (Jull St, Armadale).
Coffee and tea will be available on the day, by donation.
Doors open at 10:00am.
Seating will be cabaret style (at tables) but limited by capacity limits - get in quick!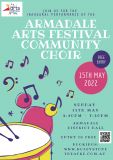 Armadale Arts Festival Community Choir Performance 2022
May 15th
at
6:30pm
Armadale Arts Festival Community Choir Project - PERFORMANCE
Come and help us celebrate the hugely rewarding work of our own local community through this choral performance.
As the finale event of the Armadale Arts Festival, it will not only be a great representation of who we are and what we can achieve as a community, but it will also be lovingly facilitated by this years Festival Artist, Bree Hartley, and her team.
The focus of the choir this year is community connection and coming together. We have drawn choir members from all parts of our local community, so we have a choir that truly represents who we are in this wonderful place we live in.
The choir is a representation of the power of music to bring a group together – a group that is a microcosm our of our wider Armadale community with everyone coming together to make meaningful connections while making beautiful music!
The choir participants have spent three weeks rehearsing seven songs for this performance.
Additionally other community members will also be invited to perform, creating a vibrant and meaningful audience experience.
Tickets are free and there will be a small kiosk for light refreshments before and after the event. Doors open at 6:00pm.
Please note that proof of vaccination will be required on entry.
Click here to book: https://www.trybooking.com/BXXBP
https://www.trybooking.com/BXXBP