Bookings Open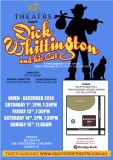 Dick Whittington & His Cat (pantomime)
December 7th, 13th, 14th
at
7:30pm
with matinee on December 7th, 14th, 15th
at
2:00pm
Roleystone Theatre presents:

Dick Whittington & His Cat (pantomime)
at Roleystone Hall (corner Wygonda Rd and Jarrah Rd, Roleystone).
Click here to purchase tickets

The story of Dick Whittington venturing to London with his cat to find his fortune is concreted within English folklore... add into this story an evil rat with his mind set on world domination, 2 fairies the opposites of each other (with one ending up at the pub), a dame with her eye on any male over 25, a rollicking chorus full of Londoners... and you have the plot for the Roleystone Theatre's end of year pantomime 'Dick Whittington'.

With direction by Nicola Beard, musical direction by Natalee Graveson, choreography by Sonja Reynolds and a cast of all ages it's sure to be a hilarious, fun-filled and interactive experience!

Show dates:
Saturday 7th Dec with a 2pm matinee and a 7:30pm show

Friday 13th Dec 7:30pm

Saturday 14th Dec 2pm matinee and a 7:30pm show
Final show - Sunday 15th Dec at 11am (please note this matinee is not at 2pm)
Tickets: $20 concession and $25 adult
Concession applies to Seniors and Children 17 years of age and under
- due to a clerical error the original poster had incorrect pricing, this has now been corrected -

Tickets available to book now - https://www.trybooking.com/BGCJO